Pastor Pat & Paul Nelson – January 1, 2022
Bishop Cynthia Moore-Koikoi appointed Pastor Pat Nelson to serve as senior pastor of the Holiday Park United Methodist Church, effective January 1, 2022. Pat Nelson has been in ministry for more than 30 years, serving four local churches (Harrisville, Somerset: First, New Wilmington, Butler: First) before being appointed in 2014 to serve with the people of the Greensburg District as their superintendent. In one of her appointments, she was on the pastoral team of a large church, with a specific emphasis on congregational care. In 2008, Pat obtained a GBHEM certification in Older Adult Ministry and has utilized that education in her pastoral ministry. She values the faith legacies that older adults bring to the church.
Pat has served in key leadership positions at both the Conference and District level and has a solid, practical appreciation for our connectional system in the United Methodist Church. Pat has a heart for congregational care, values partnering with laity, and enjoys preaching and administration. Her main focus in ministry is equipping and empowering people of all ages to grow and mature in their love and witness for Jesus.
Pastor Pat and her husband Paul operate as a team in their approach to ministry. For fun, they've been known to square dance and ride intense roller coasters. They have a soft place in their hearts for some dear friends in Zimbabwe. Their motto is: "Life is short. Try new things. Don't be afraid to get your hands dirty."
The Nelsons look forward to this next chapter in ministry with the folks at the Holiday Park UMC and trust God's continued direction in all of the aspects of their lives and ministry.
You can email Pastor Pat Nelson at
pat.nelson@holidayparkumc.org or call 724-327-6552
Pastor Augie & Amy Twigg , Interim Pastor until December 31, 2021
Born to Donn and Norma Twigg in rural Indiana County, Augie was one 19 children, 12 of whom survive. He graduated from Penns Manor High School and then IUP with a major in English Education. Having a call to Christ in late high school, he had a call to the ordained ministry late in college. He then graduated from Wesley Theological Seminary (one of our United Methodist schools) with a Masters of Divinity degree in 1976.
He met Aimee while in seminary and they married before they graduated. They both were ordained Deacons in 1977 and Elders in 1979. He has served churches in the Indiana, Kane, Connellsville and Franklin Districts. His last appointment was in 1995 to Bethany UMC in Latrobe on our Greensburg District until he retired in 2013.
He has served the Conference in years past as Family Camp dean at Camp Allegheny, Pottery Teacher at CAT Camp at Jumonville, chair of Town and Country, chair of Parish and Community Development, on the Commission on the Role and Status of Women, secretary of the Commission on Religion and Race and secretary of the Greensburg District Superintendency. While in Latrobe, he volunteered with Union Mission and served the ministerial association in many roles. He also volunteered many years as the Assistant Administrative Ward for Ministry for Venango County while appointed on the Franklin District. He has served clients of, and as annual banquet emcee for, Lifeway Pregnancy Crisis center of Latrobe.
He lives with Aimee just north of Greensburg. They have two children who both live and work in Pittsburgh. Andrew teaches graphic design at Carnegie Mellon. Addi is married to Joe Gustafson and works as a computer analyst for DHS. Augie's hobbies include music, reading, pottery, calligraphy, flower gardening and baking (especially bread).
Ed (Mr. Ed) McGinn, Executive Director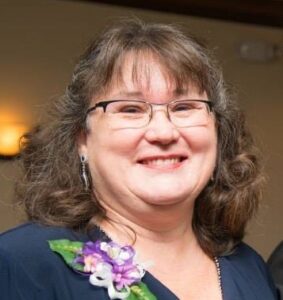 Melanie Hansen, Administrative Assistant
Melanie graduated with an Associate Degree in Business Administration. In 1986, she chose a different career path in Nursing. Melanie retired in 2015 after 25 years as a Registered Nurse. In her retirement she filled her time with community service: Girl Scout Leader, Monroeville Lion's Club member and Sunday School Teacher. Melanie joined the Church Staff in October 2016 as an Administrative Assistant and is honored to serve our congregation. She is happily married to David, her best friend, and resides in Holiday Park. Melanie is a Mom of two adult children and two wonderful grandchildren; Braden & Gwen.
You can e-mail Melanie at secretary@holidayparkumc.org
or Call at 724-327-6552
Holly Cook, Pre-School Director
Holly and her husband, Steve, have been life-long members of HPUMC. She is a graduate of Carlow University with a degree in Elementary Education. After college graduation, she taught three and four year old children at a local daycare center. In 2008, Holly became the HPUMC Pre-School Director and oversees 165 students and fourteen staff members. She enjoys sharing her faith with her staff and supporting faith-based pre-school education. Holly and Steve, along with their two children, Shawn and Emma, like traveling to new places and spending time outside.
You can e-mail Holly at hpumpreschool@holidayparkumc.org
Luci McGough, Children's Ministry Coordinator
Luci, along with her husband Tom and sons Eric and Scott, have been members here at Holiday Park since 1984. After numerous years of volunteering as youth leader, Sunday School teacher, Christian Education and Vacation Bible School Director, Luci joined the professional staff as Children's Ministry Director in 2011. She has a degree in Urban Planning from the University of Pittsburgh that along with her volunteer experience and "mom" life gives her the foundation to be a part of our Family Life Ministry.
You can e-mail Luci at childrensministry@holidayparkumc.org
Craig & Michelle Southern, Youth Director
Craig has been a member of the staff at Holiday Park United Methodist Church since January 2020. Craig also serves as an usher at the church and has had the privilege of being a member of the Staff, and Staff Parish Parrish Relations Committee. Craig received his undergraduate degree in theoretical mathematics from the University of Pittsburgh and his Masters in Education from Duquesne University. He has been happily married to his wife Michelle since 2006. Together they are raising their children Mika, Elijah, and Ella.
You can email Craig & Michelle at cbsmds@yahoo.com
Dan Dausch, Choir Director/Pianist
Dan, a native of Butler, Pennsylvania, is honored to be a contributor and leader of the music ministry at the Holiday Park, United Methodist Church. Having begun study of the piano at the age of 5, it only took Dan 28 years to find his home at Holiday Park in 2010. Along the way he received a degree in piano performance (with a minor in conducting) at Carnegie Mellon University. He applied this education by playing with numerous ballet companies across the United States, including, The Conservatory of Performing Arts at Point Park University, Pittsburgh Ballet Theater School, Lou Conte Dance Studio, Hubbard Street Dance Company, Ballet Chicago, Chicago Ballet Arts, the Ruth Page Center for the Arts, The Joffrey Ballet, South Bend Conservatory of Dance, and The Aspen Santa Fe Ballet Company.
Dan is always in search of musical talent to enhance worship services. Please join Dan each Sunday to worship the Lord as our congregation and fill our sanctuary with joyous sounds!
You can e-mail Dan at dandausch@yahoo.com
or call 773-220-8981
Beth Kerschner, Praise Band Director/Coordinator
Beth has been a member of our Church staff since June 1994. She is currently responsible for coordinating the Praise Team. They play each Sunday at the 8:30 am Worship Service. Previously, Beth worked as a chemical engineer for Koppers Company in their environmental division. She received her B.S. degree in engineering from Grove City College. Beth and her husband, Dave, have been members of Holiday Park since 1984. They have been blessed with four children. Amy teaches science at the Franklin Regional School District, Andrew is a physical therapist, Daniel is a geologist, and Laura is studying to be a Physician's Assistant. Beth enjoys babysitting her two granddaughters, gardening, sewing, and music.
You can e-mail Beth at kerschner@comcast.net or call
at 412-601-1980
Deana Laraway, Organist
Deanna started attending worship services at Holiday Park in 1967 and began as the church organist in 1970. She plays for the 10:00 am service each Sunday as well as other events such as special musical presentations, weddings and funerals. Deanna has been a valuable Worship Team Member. We are blessed to have her and her musical talent.
You can e-mail Deanna at mred@holidayparkumc.org with "Deanna" written on the memo line
Tom McGough, Chairperson of Witness Ministries & Lay Minister – Sunday Light – 6:00 PM
You can e-mail Tom at tmcgough@ctvn.org
David has been a member of the Holiday Park Staff since 2013. He has been responsible for the general cleaning of the church and for special events that are scheduled throughout the year. David has many talents that he lends to projects that maintain the church facility.
You can e-mail David at mred@holidayparkumc.org with "Custodian" written on the memo line