Rev. William J. Starr, Interim Pastor

Bill grew up in Kittanning, PA, graduating from Kittanning High School. He received a B.S. in biology from Grove City College. Bill received a call to Christian ministry and attended Wesley Theological Seminary in Washington, D.C. Bill spent 41 years in ministry serving New Paris and Ryot in Bedford Co., Homer City, St. Mary's, Warren, and Central Highlands in Elizabeth Township, before retiring in 2017.

Bill and Nancy live in Elizabeth, PA. They recently celebrated their 47th wedding anniversary. They have three children: Andrew, an architect, married to Elizabeth, living in S Miami, FL; Jessie, a physician's assistant, married to Zach Nelson, living in Murrysville, PA; and Abigail, an elementary teacher, living in Tappahannock, VA. They have two grandchildren and are expecting a third.


You can email Rev. Bill Starr bstarr73@gmail.com
or call 724-327-6552
Ed McGinn, Executive Director
Ed, or "Mr. Ed" as he is known by everyone at the Holiday Park United Methodist Church, has been a member of the staff since December, 1990. Ed has had the opportunity to be an active member of the administrative team, children & youth ministries and has responsibility for coordinating all programming activities, non-clergy staff and daily operations of the church. "Mr. Ed" received his undergrad degree in Business from the University of Pittsburgh and his Masters in Education from Penn State University.
You can e-mail Mr. Ed at mred@holidayparkumc.org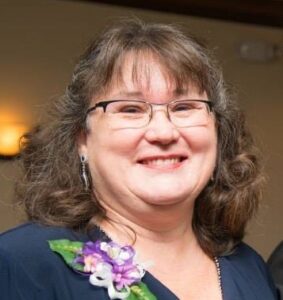 Melanie Hansen, Administrative Assistant
Melanie graduated with an Associate Degree in Business Administration. In 1986, she chose a different career path in Nursing. Melanie retired in 2015 after 25 years as a Registered Nurse. In her retirement she filled her time with community service: Girl Scout Leader, Monroeville Lion's Club member and Sunday School Teacher. Melanie joined the Church Staff in October 2016 as an Administrative Assistant and is honored to serve our congregation. She is happily married to David, her best friend, and resides in Holiday Park. Melanie is a Mom of two adult children and two wonderful grandchildren; Braden & Gwen.
You can e-mail Melanie at secretary@holidayparkumc.org
or Call at 724-327-6552
Holly Cook, Pre-School Director
Holly and her husband, Steve, have been life-long members of HPUMC. She is a graduate of Carlow University with a degree in Elementary Education. After college graduation, she taught three and four year old children at a local daycare center. In 2008, Holly became the HPUMC Pre-School Director and oversees 165 students and fourteen staff members. She enjoys sharing her faith with her staff and supporting faith-based pre-school education. Holly and Steve, along with their two children, Shawn and Emma, like traveling to new places and spending time outside.
You can e-mail Holly at hpumpreschool@holidayparkumc.org
Luci McGough, Children's Ministry Coordinator
Luci, along with her husband Tom and sons Eric and Scott, have been members here at Holiday Park since 1984. After numerous years of volunteering as youth leader, Sunday School teacher, Christian Education and Vacation Bible School Director, Luci joined the professional staff as Children's Ministry Director in 2011. She has a degree in Urban Planning from the University of Pittsburgh that along with her volunteer experience and "mom" life gives her the foundation to be a part of our Family Life Ministry.
You can e-mail Luci at childrensministry@holidayparkumc.org
Craig & Michelle Southern, Youth Director
Craig has been a member of the staff at Holiday Park United Methodist Church since January 2020. Craig also serves as an usher at the church and has had the privilege of being a member of the Staff, and Staff Parish Parrish Relations Committee. Craig received his undergraduate degree in theoretical mathematics from the University of Pittsburgh and his Masters in Education from Duquesne University. He has been happily married to his wife Michelle since 2006. Together they are raising their children Mika, Elijah, and Ella.
You can email Craig & Michelle at cbsmds@yahoo.com
Dan Dausch, Choir Director/Pianist
Dan, a native of Butler, Pennsylvania, is honored to be a contributor and leader of the music ministry at the Holiday Park, United Methodist Church. Having begun study of the piano at the age of 5, it only took Dan 28 years to find his home at Holiday Park in 2010. Along the way he received a degree in piano performance (with a minor in conducting) at Carnegie Mellon University. He applied this education by playing with numerous ballet companies across the United States, including, The Conservatory of Performing Arts at Point Park University, Pittsburgh Ballet Theater School, Lou Conte Dance Studio, Hubbard Street Dance Company, Ballet Chicago, Chicago Ballet Arts, the Ruth Page Center for the Arts, The Joffrey Ballet, South Bend Conservatory of Dance, and The Aspen Santa Fe Ballet Company.
Dan is always in search of musical talent to enhance worship services. Please join Dan each Sunday to worship the Lord as our congregation and fill our sanctuary with joyous sounds!
You can e-mail Dan at dandausch@yahoo.com
or call 773-220-8981
Beth Kerschner, Praise Band Director/Coordinator
Beth has been a member of our Church staff since June 1994. She is currently responsible for coordinating the Praise Team. They play each Sunday at the 8:30 am Worship Service. Previously, Beth worked as a chemical engineer for Koppers Company in their environmental division. She received her B.S. degree in engineering from Grove City College. Beth and her husband, Dave, have been members of Holiday Park since 1984. They have been blessed with four children. Amy teaches science at the Franklin Regional School District, Andrew is a physical therapist, Daniel is a geologist, and Laura is studying to be a Physician's Assistant. Beth enjoys babysitting her two granddaughters, gardening, sewing, and music.
You can e-mail Beth at kerschner@comcast.net or call
at 412-601-1980
Deana Laraway, Organist
Deanna started attending worship services at Holiday Park in 1967 and began as the church organist in 1970. She plays for the 10:00 am service each Sunday as well as other events such as special musical presentations, weddings and funerals. Deanna has been a valuable Worship Team Member. We are blessed to have her and her musical talent.
You can e-mail Deanna at mred@holidayparkumc.org with "Deanna" written on the memo line
Tom McGough, Chairperson of Witness Ministries & Lay Minister – Sunday Light – 6:00 PM
You can e-mail Tom at tmcgough@ctvn.org
David has been a member of the Holiday Park Staff since 2013. He has been responsible for the general cleaning of the church and for special events that are scheduled throughout the year. David has many talents that he lends to projects that maintain the church facility.
You can e-mail David at mred@holidayparkumc.org with "Custodian" written on the memo line