Bishop Cynthia Moore-Koikoi appointed Pastor Pat Nelson to serve as senior pastor of the Holiday Park United Methodist Church, effective January 1, 2022. Pat Nelson has been in ministry for more than 30 years, serving four local churches (Harrisville, Somerset: First, New Wilmington, Butler: First) before being appointed in 2014 to serve with the people of the Greensburg District as their superintendent. In one of her appointments, she was on the pastoral team of a large church, with a specific emphasis on congregational care. In 2008, Pat obtained a GBHEM certification in Older Adult Ministry and has utilized that education in her pastoral ministry. She values the faith legacies that older adults bring to the church.
Pat has served in key leadership positions at both the Conference and District level and has a solid, practical appreciation for our connectional system in the United Methodist Church. Pat has a heart for congregational care, values partnering with laity, and enjoys preaching and administration. Her main focus in ministry is equipping and empowering people of all ages to grow and mature in their love and witness for Jesus.
Pastor Pat and her husband Paul operate as a team in their approach to ministry. For fun, they've been known to square dance and ride intense roller coasters. They have a soft place in their hearts for some dear friends in Zimbabwe. Their motto is: "Life is short. Try new things. Don't be afraid to get your hands dirty."
The Nelsons look forward to this next chapter in ministry with the folks at the Holiday Park UMC and trust God's continued direction in all of the aspects of their lives and ministry.
You can email Pastor Pat Nelson at
pat.nelson@holidayparkumc.org or call 724-327-6552
Ed (Mr. Ed) McGinn, Executive Director
Mr. Ed started his church career with the Holiday Park United Methodist Church on December 1, 1990. He has been involved in a number of ministries and activities giving him a well rounded church experience and knowledge base. Mr. Ed has an undergrad degree in Business from the University of Pittsburgh and a postgrad degree in Education from Penn State University and has completed work to gain a Certificate in Human Resource Development. He enjoys his work!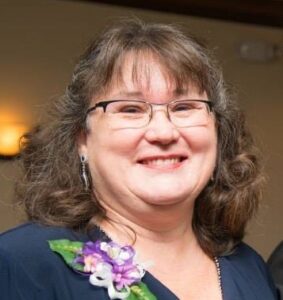 Melanie Hansen, Administrative Assistant
Melanie graduated with an Associate Degree in Business Administration. In 1986, she chose a different career path in Nursing. Melanie retired in 2015 after 25 years as a Registered Nurse. In her retirement she filled her time with community service: Girl Scout Leader, Monroeville Lion's Club member and Sunday School Teacher. Melanie joined the Church Staff in October 2016 as an Administrative Assistant and is honored to serve our congregation. She is happily married to David, her best friend, and resides in Holiday Park. Melanie is a Mom of two adult children and two wonderful grandchildren; Braden & Gwen.
or Call at 724-327-6552
Holly Cook, Pre-School Director
Holly and her husband, Steve, have been life-long members of HPUMC. She is a graduate of Carlow University with a degree in Elementary Education. After college graduation, she taught three and four year old children at a local daycare center. In 2008, Holly became the HPUMC Pre-School Director and oversees 165 students and fourteen staff members. She enjoys sharing her faith with her staff and supporting faith-based pre-school education. Holly and Steve, along with their two children, Shawn and Emma, like traveling to new places and spending time outside.
Casey Thorwart, Choir Director/Pianist
Casey has been playing the piano since she was 6 years old and accompanying church services for more than 25 years. She attended Duquesne University for her B.S. in Music Therapy. Casey has had the privilege to share the gift music with different denominations over the years as a pianist, organist, and choir director. Casey and her husband, Mike, live in Plum Burough with their four children Xander, Xoey, Xeean, and Xyleigh.
You can contact Casey at 724-327-6552
Beth Kerschner, Praise Band Director/Coordinator
Beth has been a member of our Church staff since June 1994. She is currently responsible for coordinating the Praise Team. They play each Sunday at the 8:30 am Worship Service. Previously, Beth worked as a chemical engineer for Koppers Company in their environmental division. She received her B.S. degree in engineering from Grove City College. Beth and her husband, Dave, have been members of Holiday Park since 1984. They have been blessed with four children. Amy teaches science at the Franklin Regional School District, Andrew is a physical therapist, Daniel is a geologist, and Laura is studying to be a Physician's Assistant. Beth enjoys babysitting her two granddaughters, gardening, sewing, and music.
at 412-601-1980